Artistic process
Manon Lortie is a milliner, a designer and a "visagiste" driven by a constant search for balance and a strong desire to merge art and creativity. Her hats, known as small upscale sculptures, are created on the spur of the moment, resulting in an effect of symbiosis between the movement and the material : straw, felt, lace, fur, jute, felted wool and many more natural and organic fibers come to life at the touch of the artist's hand.
Her passion for the designing of customized pieces materializes, comes forward through intuition and empathy, making her feel the other person's sentiment and perceive her desire in order to design a hat that will fit in exactly with the desired effect in terms of appearance and feeling. True to this spirit, her dream is to create hats for stage artists in order to let her imagination go wild.
Manon's passion for designing unique pieces is continuously nourished by an intense quest for renewal and an unlimited creative flow.
"A simple twist of the hat
and
like magic
a new creation emerges"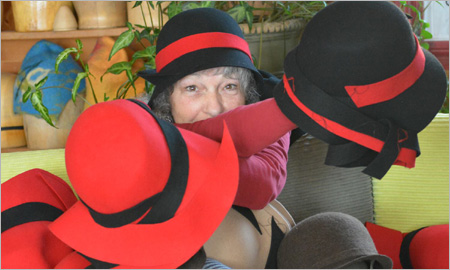 Since early 1999, close to 3,000 unique pieces have been shown and sold regionally, nationally and internationally through fashion boutiques, various craft fairs, contests and Museum exhibitions.
In 2009, Jury award Winner, Rencontres Internationales des Arts du Chapeau (Art Hat International Meetings) Chazelles / Lyon, France.The winning hat "En tête de ligne" was exibited at Chazelles Hat Museum.That same year, 2009 ,the Council of Arts and Letters of Quebec awarded her a research and creation grant , under a grant program for professional artists.
In 2007, she was selected to represent Canada at the 31st living art Museum of Philadelphia Art Craft Show with a delegation of twenty-two Canadian artists.
The year 2004 was highlighted by the creation and confection of the pageantry ceremonial hat of the Sûreté du Québec ( police) .
Active member of the corporation Métiers d'Art Bas Saint Laurent since 1999 and currently working as a project manager for "Innovation craft" since 2011.